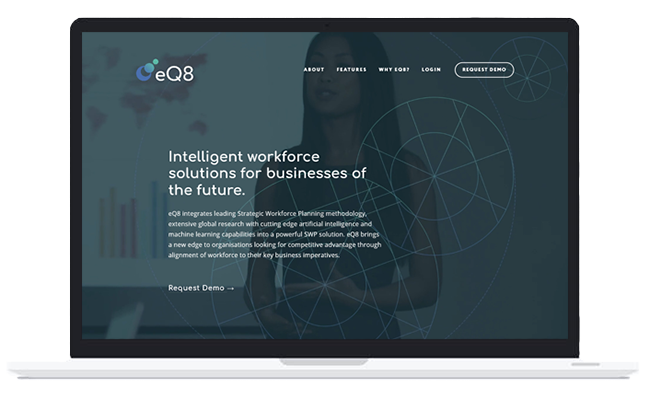 QHR built eQ8 to empower clients to connect their people to their purpose. eQ8 brings together dynamic scenario planning linked to workforce projections. This results in the world's only focused Strategic Workforce Planning SaaS product and is backed by QHR's proven project delivery. Consider a demo today to see why eQ8 has now reached clients on three continents.
Visit eQ8.ai
Strategic Workforce Planning
Translating business strategy into workforce implications enables organisations to proactively plan for their long term workforce needs through linking business strategy, dynamic analytics modelling, and scenario planning to deliver commercially impactful actions
Forecast the impact of critical business drivers on human capital needs through sophisticated demand planning

Integrate external labour market trends and predictions to understand the client's full labour outlook, the impact of technology AND the future of work

Utilise predictive analytics to determine the optimal interventions required to close identified gaps in people capability, quantity, quality, timing and location

Transform the HR function into a predictive and visionary function that is a real contributor to business direction

QHR is currently developing a software product to enable clients internal sustainability
Strategic Workforce Reviews
Conduct deep dive analytics to generate workforce insights and uncover opportunities for workforce optimisation across the organisation
Integrate, analyse and correlate multiple data sources into coherent and actionable information

Enable fact based decision making around human capital and demonstrate the real economic value of HR programs

Apply a commercially focused mindset to the workforce, to provide quantifiable narratives for change
QHR is a management consulting firm that helps clients make smarter workforce decisions. We adopt an innovative, data-led and analytically focused approach to help our clients understand their strategic workforce requirements and its implications on their broader business strategies.
Chris Hare and Alicia Roach founded QHR with a vision to elevate client competitiveness through their most critical resource, their people. QHR leverages a team of Associates and Analysts to assist clients to understand and articulate the commercial implications and trade-offs of workforce decisions.
Building on successful projects with many of Australia's leading ASX listed businesses, we are able to leverage cutting-edge IP to deliver data-driven workforce recommendations. We collaborate with our clients to ensure that the solutions provided by QHR result in action. Understanding that every company operates in a unique environment, our solutions are inherently tailored.
QHR's unique value proposition is its ability to elevate the importance of the workforce, creating outputs that are grounded in a quantifiable and commercial methodology.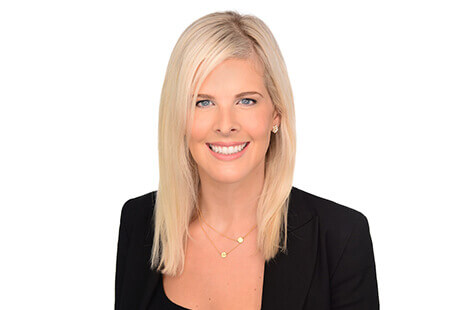 Alicia Roach Bio:
Director
Alicia is a co-founder of QHR and recognised thought leader through her application of Strategic Workforce Planning and Analytics both for clients and in previous corporate roles. Alicia has successfully created CoE's and built HR capability in many organisations who have looked to increase the financial and commercial focus of human capital.
Expand
A Chartered Accountant with an MBA who started her career in Finance, Alicia has spent the large part of her career working with organisations to create solutions that integrate HR with Finance and Strategy. From development of analytical assets to enable strategic decision making to projects around deep insights for actionable intelligence, Alicia has developed a proven ability to create real solutions that deliver tangible value not just for HR, but for the entire business. Her expertise combines complex data analyses and sophisticated financial modelling with compelling visualisation and narratives to drive strategic outcomes and compel action for business leaders.
Alicia is passionate about building the understanding of, and the intrinsic need for the value that data can give in enabling organisations to understand and maximise their human capital, and in turn their business delivery. Her innovative approach, unique expertise and enthusiasm for the application of analytics in the workforce context, have established Alicia's position as not only a subject matter expert with many speaking engagements, but in the unique position of actually having designed and implemented many cutting edge and comprehensive solutions in the Strategic Workforce Planning space.
Chris Hare Bio:
Director
Chris is a co-founder of QHR and is an innovative HR leader. Along with consulting experience within Australia and in the US, Chris has managed major HR functions and has been responsible for expertise and leadership in the areas of remuneration, analytics and strategic workforce planning. He has successfully helped many organisations to determine the plan, align leadership and influence to action.
Expand
With an invaluable combination of consulting and corporate experience, Chris brings a pragmatic and commercially focused mindset to create optimal solutions for clients. Chris is a recognised expert in Rewards in Australia, with deep expertise in strategy and incentive design. His innovative approach to total rewards moves beyond the typical prevalence and market based methods to design strategies that integrate cutting-edge thinking with specific company dynamics to innately align to the achievement of strategic and operational imperatives.
Chris is committed to bringing a commercial lens to the HR function for greater business impact and success. Along with Rewards, his direct experience in managing a range of functions from Sourcing, Payroll, Workforce Planning to the entire HR function itself, have allowed him to demonstrate the exponential value that data-driven approaches provide to organisations. Chris is a passionate speaker and thought leader in bringing an understanding of how combining business strategy together with comprehensive analysis enables organisations to maximise their human capital.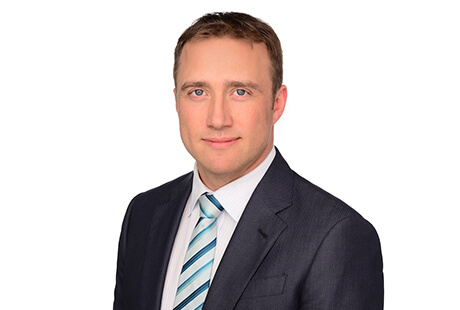 Analytical artistry and strategic insight delivering commercially focused workforce solutions
QHR understands that the workforce is critical for the execution of business strategy and operational imperatives. Through our work in building strategic workforce plans, conducting sophisticated HR analytics and building rewards programs, we have helped clients to both improve productivity and drive sustainability in their workforce into the future.
We have developed a strong track record of helping our clients create innovative strategic workforce solutions. We have delivered many strategic workforce plans, across a broad client base, creating a clear vision and action plan for their future business success. We have enabled clients to generate real action on diversity and drive employee engagement through developing robust, ongoing workforce capability and planning.
QHR is uniquely placed to help our clients respond and plan to a dynamic and rapidly changing workforce environment. We guide our clients who are often grappling to understand how they should shape their workforce in a constantly disrupted market, by leveraging our innovative and best in class quantitative based approach to workforce planning.
Many of our clients are dealing with responding to workforce shifts forced by rapid digitisation, or are using technology as a strategic driver for creating industry disruption. We have helped them manage their employee profile shift, understand how to build capability into the future and highlight those critical skill changes required to maintain competitive advantage.
We are focused on working collaboratively with our clients to ensure our solutions have clear, actionable and commercially grounded outcomes. Our approach is incredibly powerful in a fast moving environment in gaining alignment between leadership and quickly setting a strategic direction, supported by data and linked to the business priorities.